Epidural anaesthesia with traditional technique versus epidural catheterization technique in buffaloes
Keywords:
Bubalus bubalis, buffaloes, epidural anesthesia, catheterization, new technique of epidural, first inter coccygeal space
Abstract
Epidural anaesthesia in buffaloes is done at sacro coccygeal or at first inter-coccygeal space. A new technique of injecting epidural anaesthesia was compared with traditional technique at first inter coccygeal space. Two group were done with Group 1 consisting of 10 cases and Group 2 with 6 cases were with affections of Tail gangrene, prolapse of vagina, caesarean section, vaginal tear and tail wound studied at Department of Veterinary Surgery and Radiology, College of Veterinary and Animal Sciences, Udgir. Group 1 was anesthetized by traditional method by inserting needle at 45 degree angle at first inter coccygeal space. Group 2 was anaesthetized by catheterization where in first as traditional technique 16 G spinal needle passed into epidural space then catheter was inserted and directed inside 1 to 1.5 inch inside and placed by confirming site. Study showed catheterization useful when incremental dose is necessary. It required care and experience to maintain catheter in position. Injury or trauma was minimum compared to traditional technique.
Downloads
Download data is not yet available.
References
Brook, G.B. 1935. Spinal (epidural) anaesthesia in the domestic animals. Vet. Rec., 15: 549.

Hall, L.W., K.W. Clarke and C.M. Trim. 1983. Veterinary Anaesthesia, 10th ed. W.B. Saunder, London, UK. p. 256-257.

Lumb, W.V. and E.W. Jones. 1984. Spinal anaesthesia. Veterinary Anaesthesia 2nd ed. Lea and Febiger, Philadelphia, USA. p. 54.

Moulvi, B.A., J.D. Parrah, M.O. Kalim, H. Athar, M. Singh and M.A. Baba. 2011. Comparative efficacy of lignocaine alone and in combination with ketamine as epidural anaesthesia in cow calves. Vet. World, 4(8): 364-367.

Tyagi, R.P. and J. Singh. 1996. Ruminant Surgery, 3rd ed. CBS Publishers and Distributors, Delhi, India. 117p.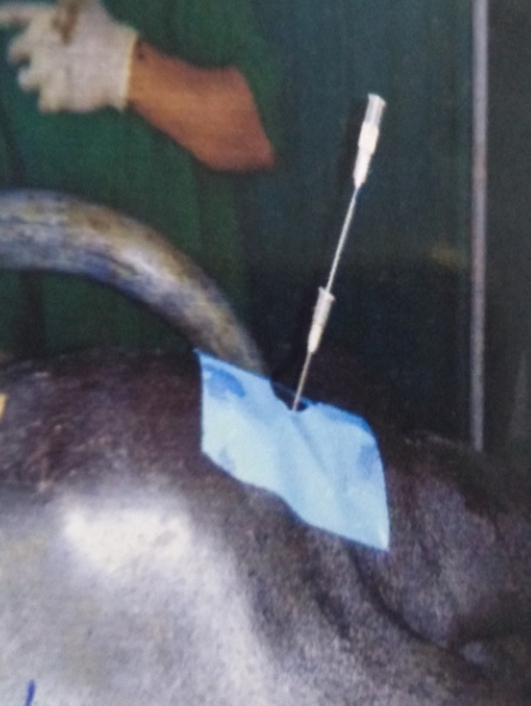 Downloads
How to Cite
Badgujar, C. L., Agivale, S. M., Maulana, S. A. S., & Mysore, A. K. N. (2023). Epidural anaesthesia with traditional technique versus epidural catheterization technique in buffaloes. Buffalo Bulletin, 42(3), 431–435. https://doi.org/10.56825/bufbu.2023.4232549
Section
Short Communication