Therapeutic management of non-infectious repeat breeder buffaloes by using phytomedicine
Keywords:
Bubalus bubalis, buffaloes, phytomedicine, infertility, repeat breeding, conception rate
Abstract
The goal of the current study was to assess the efficacy of powder Harbominvit in non-infectious repeat breeder buffaloes with a selective test such as white side test, cervical pH, PMNs cell count, Fern patten and estimation of serum phosphorous. 24 buffaloes that tested negative for white side test was chosen for the current study out of a total of 51 buffaloes that underwent the test from Nanded and Parbhani districts of Marathwada region in Maharashtra under infertility camps organized by NDDB, Mother dairy, and Collage of animal and veterinary science Parbhani. MAFSU. In the Treatment group at day 0 before treatment repeat breeder buffaloes showed a Mean ± SE cervical pH value was 7.38±0.07 while the Control group showed a Mean ± SE cervical pH value was 7.59±0.08. The white side test was 100% negative for both groups. The mean ± SE value for PMN cell count for the Treatment group is 2.67±0.31 while the Control group was 2.08±0.22. The mean ± SE value for serum phosphorus value for the Treatment group before treatment is 3.81a±0.11 and after treatment is 4.937a±0.18 while the Control group shows before 3.68a±0.09 and after treatment 4.17a±0.20 and mean ± SE value for Fern pattern for Treatment group and Control group was 0.750±0.13 and 0.66±0.14 respectively. The conception rates in buffaloes of Group 1 with the treatment of powder Harbominvit and Group 2 with no treatment serve as control were 75% (09/12), and 41.66 % (05/12) respectively (Table 2). The overall conception rate in the present study was 58.33% (14/24) in non-infectious repeat-breeding buffaloes. As an herbal combination with chelated minerals and some vitamins has best conception rate in non-infectious repeat breeder buffaloes having the advantage of reducing the cost of treatment in repeat breeding as compared to other treatment protocols.
Downloads
Download data is not yet available.
References
Bhandari, G. and K.M. Ravishankar. 2020. Implications of COVID-19 for Indian dairy sector. Food and Scientific Reports, 1: 43-46. Available on: https://www.researchgate.net/profile/Gunjan-Bhandari-2/publication/343253865_Implications_of_COVID-19_for_Indian_Dairy_Sector/links/5f1fabe4a6fdcc9626b9e7a0/Implications-of-COVID-19-for-Indian-Dairy-Sector.pdf

Dutta, P., A.V. Harikumar, S.I. Shroff, S.K. Rana, U.V. Mogale, V. Magare and S.B. Gorhe. 2022. Management of repeat breeding in bovine by herbal combination. Journal of Entomology and Zoology Studies, 10(1): 295-297. DOI: 10.22271/j.ento.2022.v10.i1d.8948

El-Sanafawy, H.A., T.A.M. Ashmawy and E.I. Abou Elenin. 2017. Effect of partial replacement of concentrate feed mixture with moringa dry leaves on productive performance of zaraiby goats. Egyptian Journal of Nutrition and Feeds, 20(3): 409-420.

Fields, M.J. and P.A. Fields. 1996. Morphological characteristics of the bovine corpus luteum during the estrous cycle and pregnancy. Theriogenology, 45(7): 1295-1325. DOI: 10.1016/0093-691x(96)00099-4

Khosa, B.K. 2020. Repeat breeding: A dent to dairy farm economy. International Journal of Current Microbiology and Applied Sciences, 9(7): 4085-4091. DOI: 10.20546/ijcmas.2020.907.480

Kumar B., V. Sachan, A. Kumar, V. Singh, G. K. Das and A. Saxena, 2016. Effect of Supplementation of Aegle marmelos and Murraya koenigii on the follicular development in delayed pubertal Sahiwal Heifer. Journal of Animal Research, 6(6), 1047-1052. Available on: https://ndpublisher.in/admin/issues/JARV6N6u.pdf

Liu, Z., Y. Pei, Y. Su and H. Wang. 2014. Traditional Chinese medicinal composition useful eg for treating repetitive mating sterility of cows, nourishing yin, regulating blood and warming uterus, comprises eg deer horn glue, morinda officinalis, angelica and liquorice. Patent.

Moore, K. and W.W. Thatcher. 2006. Major advances associated with reproduction in dairy cattle. J. Dairy Sci., 89(4): 1254-1266. DOI: 10.3168/jds.S0022-0302(06)72194-4

Patil, M., P.B. Hase and T.D. Rasal. 2014. Studies on efficacy evaluation of mineral supplementation on anoestrus cows in field conditions and blood biochemical profile of some trace elements. Vet. Pract., 15(1): 116-118.

Sastry, N.S.R. 2017. A SWOT Analysis of the current dairy farming situation in India, with particular reference to the small farmers. Indian Journal of Animal Production and Management, 33(3-4): 62-69.

Satheshkumar, S., N. Punniamurthy and V. Ranganathan. 2021. Herbal combo therapy for oestrus induction in postpartum anoestrus cows. Journal of Phytopharmacology, 10(1): 19-21. DOI: 10.31254/phyto.2021.10105

Snedecor, G.W. and W.G. Cochran. 1980. Statistical Methods. Iowa State University Press, Iowa, USA.

Suryawanshi, S.S., P.P. Kamble, V.A. Bapat and J.P. Jadhav. 2020. Bioactive components of magical velvet beans. In Hasanuzzaman, M. Legume Crops-Prospects, Production and Uses, DOI: 10.5772/intechopen.92124

Verma, K.K., S. Prasda, A. Kumaresan, T.K. Mohanty, S.S. Layek, T.K. Patbandha and S. Chand. 2014. Characterization of physico-chemical properties of cervico-vaginal mucus in relation to parity and conception rate in Murrah buffaloes. Vet. World, 7: 467-471.

Vlad, G.G., C.T. Romeo, D.A. Octavian, D. Eugenia, M.A. Eugeniu, M.R. Florin and M. Florin. 2021. Introduction of mineral ts in a normal fertilization protocol and the influence on the fertility and levels of some bio-elements in cattle. Animal Husbandry and Fodder Production, 104(4): 32-38. DOI: 10.33284/2658-3135-104-4-32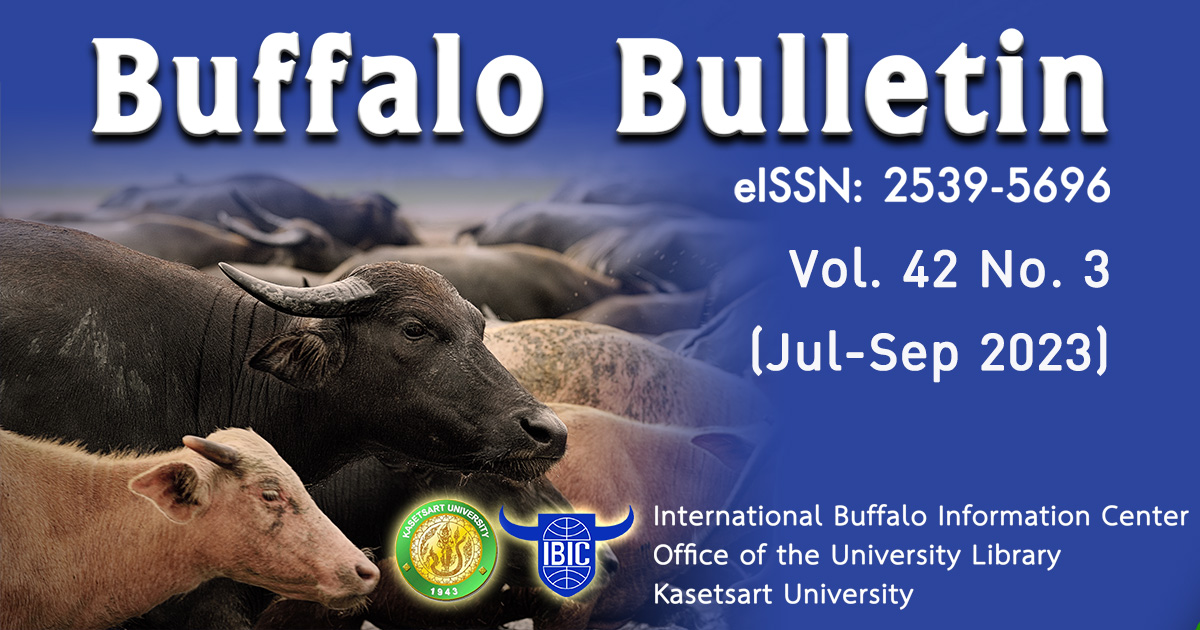 Downloads
How to Cite
Choutmal, V. V., Patil, M. G., Markandeya, N. M., & Hase, P. B. (2023). Therapeutic management of non-infectious repeat breeder buffaloes by using phytomedicine. Buffalo Bulletin, 42(3), 449–454. https://doi.org/10.56825/bufbu.2023.4235405