Detection of subclinical ketosis in dairy buffalo herds of Tehsil Jhang, Punjab, Pakistan
Keywords:
Bubalus bubalis, buffaloes, prevalence, sub-clinical ketosis, dairy buffaloes, urine analysis
Abstract
Bovine ketosis is a major metabolic disorder emerging as a result of negative energy balance in the post calving period and subsequent lactation of lactating dairy animals. The ketone bodies (beta-hydroxybutyrate, acetoacetate and acetone etc.) are accumulated that can be detected in milk, blood, and urine samples. The present study was accomplished to sort out the frequency of bovine ketosis in dairy buffalo herds during the first 2 months of lactation in buffalo to detect bovine ketosis. For this purpose, blood, and urine samples (n=50) were randomly collected from private dairy farms (n=5) having buffalos as a pilot study employing commercial test strips i.e., Free Style Optium β-ketone test strips (Abbot Healthcare, Pvt. Ltd. UK) for blood and JusChek (Muenster, Germany) for urine analysis. Resultantly, as a whole prevalence of bovine ketosis found using blood sample was 18% and via urine was 12% that indicates high prevalence of subclinical ketosis during 2nd month of lactation. Animals in the age group of 5 to 7 years were found to be significantly more susceptible (P<0.05) with an incidence of 37.5%. The results revealed that a significant subclinical ketosis exists in the dairy buffaloes, which causes decreased production associated with significant economic loss to the farmers. It was concluded that a moderately high incidence of sub clinical bovine ketosis predominates in the study area which may be curtailed by early diagnostic and remedial approaches using field tests to save the economics of the farmers.
Downloads
Download data is not yet available.
References
Asrat, M., G.H. Tadesse, R.V. Gounder and R. Nagappan. 2013. Prevalence and treatment of ketosis in dairy cows in and around Addis Ababa, Ethiopia. British Journal of Dairy Sciences, 3(3): 26-30. Available on: https://maxwellsci.com/print/bjds/v3-26-30.pdf

Basbug, O., Y. Akar and N. Ercan. 2014. The investigation of the prevalence of subclinical ketosis in Sivas region dairy cows. Eurasian Journal of Veterinary Sciences, 30(3): 123-128. Available on: https://eurasianjvetsci.org/pdf/pdf_EJVS_1047.pdf

Das, A., N. Sahoo, P.C. Samal, P.K. Ray and D.K. Karna. 2008. Incidence of perparturient diseases among jersey cows in an organized farm. Indian. Vet. J., 85(7): 716-718.

Enjalbert, F., M.C. Nicot, C. Bayourthe and R. Moncoulon. 2001. Ketone bodies in milk and blood of dairy cows: Relationship between concentrations and utilization for detection of subclinical ketosis. J. Dairy Sci., 84(3): 583-589. DOI: 10.3168/jds.S0022-0302(01)74511-0

Ghanem, M.M. and W.M. El-Deeb. 2010. Lecithin cholesterol acyltransferase (LCAT) activity as a predictor for ketosis and parturient haemoglobinuria in Egyptian water buffaloes. Res. Vet. Sci., 88(1): 20-25 DOI: 10.1016/j.rvsc.2009.07.004

Geishauser, T., K. Leslie, D. Kelton and T. Duffield. 1998. Evaluation of five cowside tests for use with milk to detect subclinical ketosis in dairy cows. J. Dairy Sci., 81(2): 438-443. DOI: 10.3168/jds.S0022-0302(98)75595-X

Kinoshita, A., C. Wolf and A. Zeyner. 2010. Studies on the incidence of hyperketonemia with and without hyperbilirubin-aemia in cows in Mecklenburg-Vorpommern (in Germany) in the course of the year. Tierarztl. Prax. G. N., 38(1): 7-15.

Kumar, A., N. Sindhu, P. Kumar, T. Kumar, G. Charaya, Surbhi, V.K. Jain and Sridhar. 2015. Incidence and clinical vital parameters in primary ketosis of Murrah buffaloes. Vet. World, 8(9): 1083-1087. DOI: 10.14202/vetworld.2015.1083-1087

LeBlanc, S. 2010. Monitoring metabolic health of dairy cattle in the transition period. J. Reprod. Develop., 56: S29-S35. DOI: 10.1262/jrd.1056s29

Liu, G.W., Z.G. Zhang, J.G. Wang, Z. Wang, C. Xu and X.L. Zhu. 2010. Insulin receptor gene expression in normal and diseased bovine liver. J. Comp. Pathol., 143(4): 258-261. DOI: 10.1016/j.jcpa.2010.04.004

Sharma, I.J. and K. Rakesh. 2001. Correlation of some blood biochemicals with ketone bodies in normal and sub-clinical ketotic bovines. Indian J. Anim. Sci., 71(11): 1029-1031.

Vanholder, T., J. Papen, R. Bemers, G. Vertenten and A.C.B. Berge. 2015. Risk factors for subclinical and clinical ketosis and association with production parameters in dairy cows in the Netherlands. J. Dairy Sci., 98(2): 880-888. DOI: 10.3168/jds.2014-8362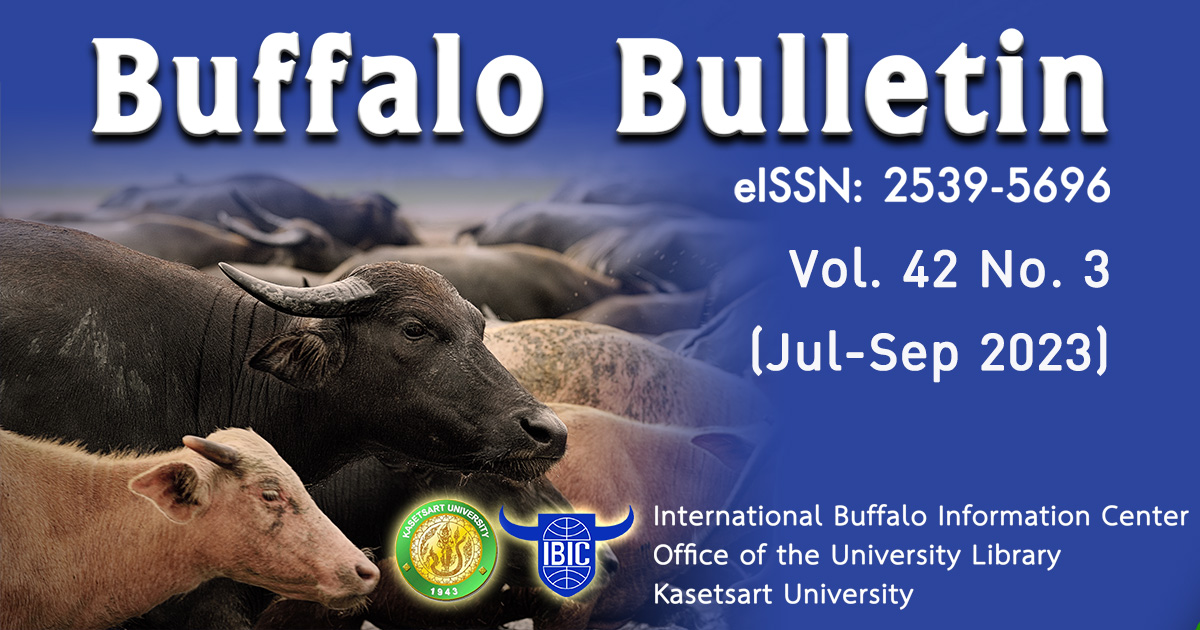 Downloads
How to Cite
Nasir, A., Sikandar, A., Shakoor, A., Kashif, M., Tabish, R. W., Hussain, A., … Iqbal, M. U. (2023). Detection of subclinical ketosis in dairy buffalo herds of Tehsil Jhang, Punjab, Pakistan. Buffalo Bulletin, 42(3), 305–311. https://doi.org/10.56825/bufbu.2023.4233089
Section
Short Communication