Assessing the acceptability of hormone-based estrus induction / synchronization protocols to overcome anestrus in buffaloes
Keywords:
Bubalus bubalis, buffaloes, acceptability, anestrus, hormones, synchronization
Abstract
Five hundred dairy households in the rural areas of Punjab state were interviewed through comprehensively designed questionnaires to assess the knowledge and experience of farmers regarding the hormone-based strategies to overcome anestrus and getting the buffaloes pregnant. About 81.8% dairy households were unaware (P<0.05) about any estrus induction or synchronization hormonal protocol and majority (65.5%) of these belonged to households with <5 animals. Out of households having awareness about hormonal protocol use in buffaloes, the majority (58.2%) belonged to households with >15 animal. Out of dairy farmers using hormonal protocols, the proportion of illiterate was 14.8%. Out of dairy farmers not aware about hormonal protocols, the proportion of illiterate was 52.3%. Data analysis of 91 dairy households who had used hormonal protocols revealed summer (65.9%) and anestrus (82%) as the major underlying reasons for their use in buffaloes. Low success rate (20.2%), high cost (50%) and non-availability of doctor (29.7%) were the reasons for the irregular use of hormonal protocols. The success rate of hormonal protocols under field condition in terms of conception was 47.1%. In summary, the major bottlenecks in acceptability of hormone-based therapeutics strategies under filed conditions are illiteracy, high cost of therapeutics strategies and lack of awareness in buffalo farmers especially in households with <5 animals.
Downloads
Download data is not yet available.
References
Biradar, S., M.K. Tandle, M.D. Suranagi, S.M. Usturge, N.A. Patil and Y.H. Babu. 2016. Study on efficacy of cosynch and ovsynch protocols on fertility in repeat breeder buffaloes. Buffalo Bull., 35: 737-743. Available on: https://kuojs.lib.ku.ac.th/index.php/BufBu/article/view/1468

Bisen, A., S.N. Shukla, M.K. Shukla and A. Mishra. 2018. Fertility response using timed insemination protocols in sub-oestrus buffaloes. J. Anim. Res., 8: 417-421. DOI:10.13140/RG.2.2.10984.42242

Brar, P.S. and A.S. Nanda. 2004. Impact of conventional managemental practices on reproductive performance of rural buffaloes. Indian J. Anim. Reprod., 25(2): 94-96.

Das, G.K. and F.A. Khan. 2010. Summer anestrus in buffalo. Reprod. Domest. Anim., 45(6): 483-494. DOI: 10.1111/j.1439-0531.2010.01598.x

De Rensis, F. and F. Lopez-Gatius. 2007. Protocols for synchronizing estrus and ovulation in buffalo (Bubalus bubalis): A review. Theriogenology, 67(2): 209-216. DOI: 10.1016/j.theriogenology.2006.09.039

Ghuman, S.P.S. and D.S. Dhami. 2017. Seasonal variation in AI and pregnancy rate in buffalo and improving their fertility status following application of FTAI during non-breeding season. Indian J. Anim. Reprod., 38(1): 4-8.

Ghuman, S.P.S., J. Singh, M. Honparkhe, D. Dadarwal, G.S. Dhaliwal and A.K. Jain. 2010. Induction of ovulation of ovulatory size non-ovulatory follicles and initiation of ovarian cyclicity in summer anoestrous buffalo heifers (Bubalus bubalis) using melatonin implants. Reprod. Domest. Anim., 45(4): 600-607. DOI: 10.1111/j.1439-0531.2008.01310.x

Khan, A.S., M.S. Haider, M. Hassan, A. Husnain, M.R. Yousuf and N. Ahmad. 2018. Equine chorionic gonadotropin (eCG) enhances reproductive responses in CIDR-EB treated lactating anovular Nili-Ravi buffalo during the breeding season. Anim. Reprod. Sci., 196: 28-34. DOI: 10.1016/j.anireprosci.2018.06.012

Kumar, P.R., S.K. Singh, S.D. Kharche, C.S. Govindaraju, B.K. Behera, S.N. Shukla, H. Kumar and S.K. Agarwal. 2014. Anestrus in cattle and buffalo: Indian perspective. Advances in Animal and Veterinary Sciences, 2(3): 124-138. DOI: 10.14737/journal.aavs/2014/2.3.124.138

Naseer, Z., E. Ahmad, N. Ullah, M. Yaqoob and Z. Akbar. 2013. Treatment of anestrous Nili-Ravi buffaloes using eCG and CIDR protocols. Asian Pacific Journal of Reproduction, 2(3): 215-217. DOI: 10.1016/S2305-0500(13)60149-9

Sharma, R.K., S.K. Phulia, A. Jerome and I. Singh. 2017. Ovsynch Plus protocol improves ovarian response in anovular Murrah buffaloes in low‐breeding season. Reprod. Domest. Anim., 52(6): 1030-1035. DOI: 10.1111/rda.13020

Savalia, K.K., A.J. Dhami, K.R. Patel and K.K. Hadiya. 2013. Influence of controlled breeding techniques on fertility and plasma micro-minerals profile in conceiving and non-conceiving anoestrus and repeat breeding buffaloes. Indian Journal of Veterinary Sciences and Biotechnology, 9(2): 28-35.

Savani, H.R., C.T. Khasatiya, S. Saxena and M.D. Patel. 2017. Estrus Induction and fertility response following ovsynch alone and ovsynch plus prid protocol in postpartum anestrus Surti buffaloes. Indian Journal of Veterinary Sciences and Biotechnology, 12(4): 20-24.

Warriach, H.M., D.M. McGill, R.D. Bush, P.C. Wynn and F.R. Chohan. 2015. A review of recent developments in buffalo reproduction. Asian-Aust. J. Anim. Sci., 28(3): 451-455. DOI: 10.5713/ajas.14.0259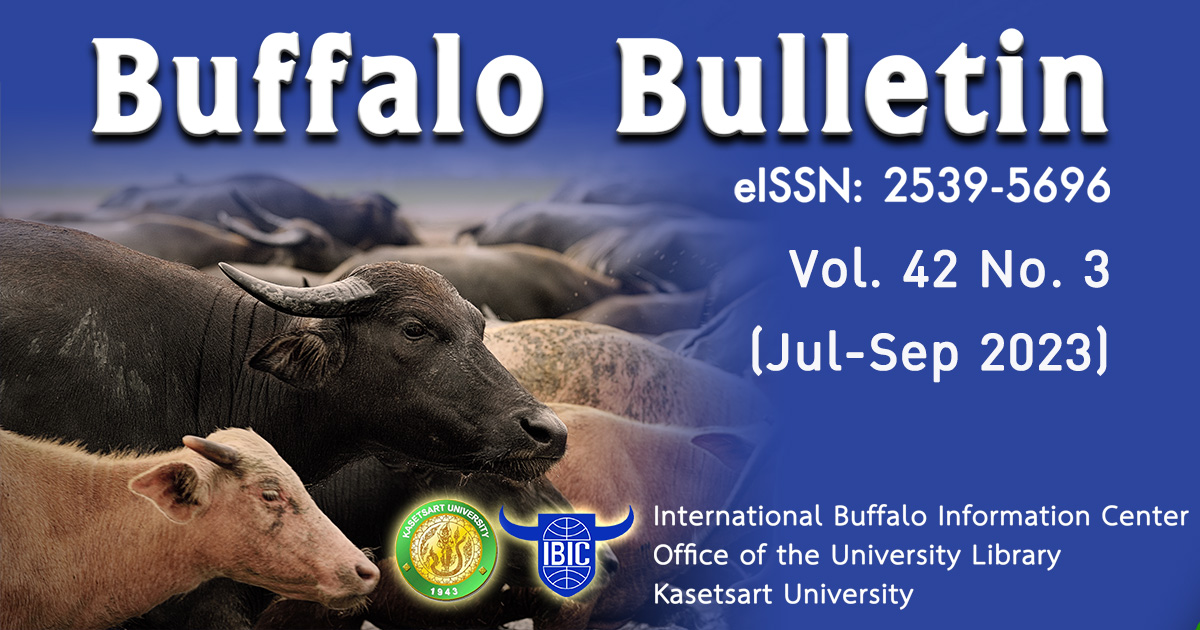 Downloads
How to Cite
Mahantswamy, M., Ghuman, S. S., & Singh, B. (2023). Assessing the acceptability of hormone-based estrus induction / synchronization protocols to overcome anestrus in buffaloes. Buffalo Bulletin, 42(3), 365–372. https://doi.org/10.56825/bufbu.2023.4233575